First Nations, Métis and Inuit Education
Contribution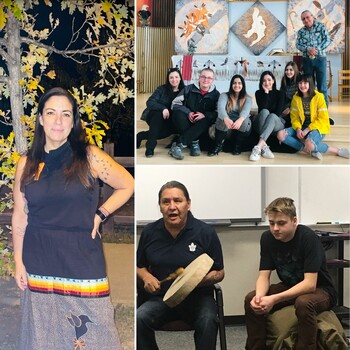 My name is Candida Shepherd and I'm a member of the Metis Nation of Alberta Region 4.  I am a teacher and a First Nations, Metis, Inuit Lead at Bev Facey Community High School.  I am a long-time member of Sacred Heart Church of the First Peoples.  It is my pleasure to share my culture and to share my journey as a knowledge-seeker.
Bev Facey's Journey to an Indigenized school culture…
I am so grateful for the opportunity to acknowledge this journey here on treaty 6 territory - the traditional lands of the First Nations, Metis and intuit.  We are all treaty people.
Since the Truth and Reconciliation Commision, Bev Facey CHS has embarked on a path of listening and learning.  How do we restore the Indigenous presence in Canada - but also within our community?  
There has been a recognition that it would take time to build long lasting relationships and truly understand what our cultural processes and understandings mean to our Indigenous people.  With the guidance from our Elder in Residence, Wilson Bearhead and many knowledge keepers and seekers, there has been a commitment to the responsibility to protect these knowledges and to ensure newcomers treat the knowledge with respect when it is shared.  
In 2016, Bev Facey began the process of creating an ethical space within the building.  This required a willingness to trust the indigenous process and to dedicate valuable classroom space.  Both did not come easily, at times.  
Our Indigenous footprint has spread throughout the school in many ways.  However, I am the proudest of our Culture Room.  It is situated in the heart of the school, visited by many staff and students on a daily basis.  It is a place where the sacred Seven Teachings are at the center of how we share with each other so that all our interactions can happen in a good way.  
I am grateful to the Creator for the opportunity to be involved in this journey.  And to the various administrators, Paul Pallister, Barclay Spady and now, Ken Wlos for their willingness to listen.  And most especially the Elders and supporters who guided with good intentions.
Hiy hiy.
Candida Shepherd
TOUR OUR CULTURAL ROOM BY CLICKING HERE
Resources
These gatherings are an opportunity for First Nations, Métis and Inuit parents/guardians to come together to make connections, create a supportive environment for dialogue, share hopes and ideas for their children within the EIPS family, and learn what's happening around the Division. We're grateful to Elder Wilson Bearhead for attending our virtual parent gatherings last school year and agreeing to open each of our gatherings again this year. It's truly an honour and a privilege to be guided by Elder Wilson, and we hold our relationship with him close to our hearts.
Sessions will take place online using Microsoft Teams Meetings. Join on your computer or mobile app. Use this link to join the meeting (the same link will be used for all three meetings).
Gathering 1: Jan. 18, 2022 (7–8 p.m.) - welcome and introductions, words from Elder Wilson, questions/hopes/queries discussion
Gathering 2: Feb. 15, 2022 (7–8 p.m.) - words from Elder Wilson, special presentation by Rupertsland Institute for Métis Education- supports for Métis students and their families
Gathering 3: March 15, 2022 (7–8 p.m.) - words from Elder Wilson, topic TBD based on wishes, hopes and interest expressed in previous gatherings
Indigenous Knowledge and Wisdom Centre (IKWC) First Nations Educator's Conference, February 2–3, 2022—Reconciliation and Treaty
 CASS First Nations, Métis, and Inuit Gathering, March 14–16, 2022—Sharing Our Truth