Back to all posts
Posted on:
Registration Now Open Diploma Prep Sessions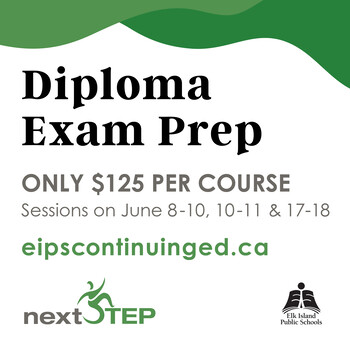 Diploma Prep Sessions
Registration is now OPEN for students/families to register for Diploma Prep courses .
https://www.eipscontinuinged.ca/
Courses are designed for preparing students to write their Grade 12 diploma exams.  The material presented is based on a 12-hour schedule over a weekend. Courses will run from 8:45 a.m. to 3:30 p.m. with a half hour break for lunch.  Course will be offered at Salisbury Composite High School (20 Festival Way) in Sherwood Park. Students can only register for one review course each weekend. Cost is $125 per course. 
June 8-10 ELA 30-1 and Social 30-1
June 10-11 Math 30-1 and Math 30-2
June 17-18 Biology 30, Chemistry 30, Physics 30, and Science 30