Back to all posts
Posted on:
BEV FACEY THEATRE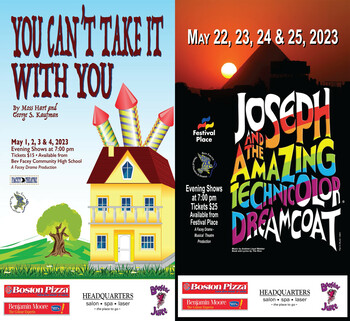 You Can't Take It With You by George Kaufman and Moss Hart
Grandpa Vanderhof and his wacky family, the Sycamores, have been happily living their zany lives in his house by Columbia University in New York for many years. This family (and their friends) are a madcap group of eccentrics, marching to the beat of their own drum, with pride and joy. Their hobbies include collecting snakes, building fireworks in the basement, writing a myriad of plays that never get published, and taking ballet lessons. Things like stress, jobs, and paying taxes to the government are for other people, not for them! But when practical young Alice Sycamore becomes engaged to her company's Vice President Tony Kirby, the Vanderhof/Sycamore clan must straighten up to meet the new in-laws. Disaster ensues when the Kirbys arrive at the wrong time and, despite the best laid plans, see Alice's family in all of its crazy glory. The evening ends with everyone in the house getting arrested, and Alice ending the engagement. It isn't until Grandpa's wise speech to Mr. Kirby about the importance of living life to the fullest that the two families find a way to accept each other, and love conquers all. You Can't Take It With You is a madcap, idealistic comedy that reinforces the idea that you can only live life to the fullest by doing whatever makes you happy.
Evening Shows at Bev Facey May 1-4 at 7pm Cost $15
*Tickets are on sale through Bev Facey only*
JOSEPH AND THE AMAZING TECHNICOLOUR DREAMCOAT
Lyrics by Tim Rice and Music by Andrew Lloyd Webber
"Sha la la, Joseph, you're doing fine! You and your dreamcoat, ahead of your time!" One of the most enduring shows of all time, Joseph and the Amazing Technicolor Dreamcoat is a reimagining of the Biblical story of Joseph, his father Jacob, eleven brothers and the coat of many colors.
Told entirely through song with the help of a main character Narrator, the musical follows preferred son Joseph. After being sold into slavery by his brothers, he ingratiates himself with Egyptian noble Potiphar, but ends up in jail after refusing the amorous advances of Potiphar's wife. While imprisoned, Joseph discovers his ability to interpret dreams, and he soon finds himself in front of the mighty but troubled, Elvis-inspired, Pharaoh. Joseph's solution to Egypt's famine elevates him to Pharaoh's right-hand man and reunites him with his family.
The magical musical is full of catchy songs in a variety of styles, from a parody of French ballads ("Those Canaan Days"), to country-western ("One More Angel in Heaven") and calypso ("Benjamin Calypso"), along with the unforgettable classics "Any Dream Will Do" and "Close Every Door."
Appropriate for all audiences and groups, Joseph is performed hundreds of times a year by schools across North America, the U.K. and around the world.
Evening Shows May 22-25 at Festival Place at 7pm Cost $25
*Tickets are on sale through Festival Place only*