Back to all posts
Posted on:
BEV FACEY FOOTBALL ANNOUNCEMENT!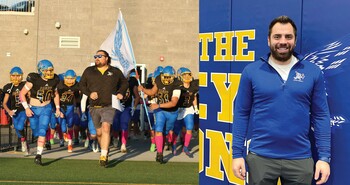 We are excited to introduce Brad Launhardt and Jordan Filippelli as our NEW Co-Head Coaches for Bev Facey Football's 2023 season.
Jordan "Coach Filly" came to Bev Facey as Co-Head Coach with Coach Tanner Stephens for the 2021 football season. Jordan has been instrumental in building the football program at Facey and we are beyond excited to have him return. He has an extensive football background from his playing days into his coaching career. Jordan grew up in Sherwood Park playing his minor football in town, and played 3 seasons with the Salisbury Sabres. He went on to play 5 seasons with University of Calgary Dinos where he won four Hardy Cups. Coach Filly was drafted into the CFL by the Ottawa RedBlacks. After retiring from playing he joined his previous Coach Blake Nill at UBC to coach the offensive line for two seasons. He then joined the University of Calgary's coaching staff for the COVID abbreviated season, before moving back home and joining the coaching staff at Bev Facey. "I can't thank Coach Filly enough" said Coach Stephens, "he came to Facey after a few really hard years for the football program and totally rejuvenated the program. He knowledge of the sport and connections to coaches and programs at the junior and USports level is instrumental In creating success for those that want to play football after High School. He is a guy who has not only played at the highest level, he also has coached at the USports level and has seen the transformation from 17-18 years old kids coming into university and what that process looks like for them as they progress in their athletic and academic journey. I am so lucky to have been fortunate enough to work alongside Coach Filly and learn so much from him throughout the process. He is going to do amazing work with the team and the sky is the limit for the potential of this program"
Brad comes with a wealth of football knowledge playing his post-secondary seasons at the Edmonton Huskies and University of Alberta Golden Bears. While with the Edmonton Huskies, Brad was a two-time CJFL All Canadian, and then went on to become the starting quarterback at the University of Alberta. He was a Canada West All-Star and set the U of A record for most passing yards in a season. Brad joined Bev Facey as a teacher, Athletic Director, and Quarterback coach this year. While playing at the next level, Brad spent his extra time giving back to the Sherwood Park Minor Football Community since 2013 and has also coached with Peak School of Football and Golden Bears Football Camps. 
As a coaching staff, we are excited to be part of the student-athlete experience at Bev Facey High School. The program has a lot of excitement and energy, and we look to continue that moving forward in this time of transition. We are very grateful to Mr. Stephens for all the hard work that he has done with the program over the last four years, with 2 young boys he wants to spend more time with their activities. However, he is not going far as he will still be teaching at Bev Facey, and he will continue to work with the football team in a different role. "I could not be happier to see Brad in this role. Brad is the perfect fit to help kids grow on and off the field. He has played and succeeded at the highest level, and he truly cares about the kids as the individuals that they are. The program is in great hands, and I can't wait to see the success they are going to have."
As a team, we embrace 'The Facey Way': commitment, dedication, respect, loyalty, and enthusiasm in developing student-athletes as positive citizens in our community. We will continue to work to develop leadership and teamwork skills in our students during their time at Bev Facey. Our goal is for every player to leave the program a better person and someone who is empowered to contribute to the community. The focus of our programs will always be about our athletes and what is best for them. Making sure they feel valued and in a better position to succeed in life after high school as a result of being part of the Bev Facey Football Program.