Back to all posts
Posted on:
BEV FACEY AP OPEN HOUSE!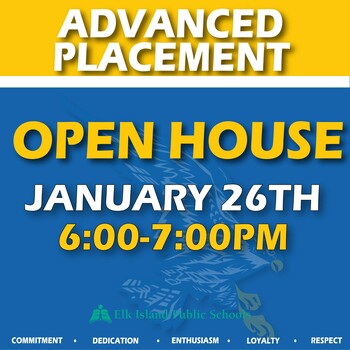 Advanced Placement covers the same Alberta curriculum as the -1 stream and students in AP courses write the same final exam as all Bev Facey students in the -1 stream. As most of our AP students aspire to write the AP exams at the end of their program, AP courses may move at a slightly faster pace which allows students the opportunity for delving further into content and including additional AP curriculum if it differs from the Alberta Education curriculum. In many courses the Alberta curriculum is very closely aligned with the Advanced Placement curriculum and there is very little variance.
The assessments and standards of assessment are the same for an AP class and a -1 class, as we only report a final mark to Alberta Education based on our curriculum. Students in AP may have formative assessments within their PowerSchool simply to highlight their achievement on additional AP material, but these will not affect their summative assessments UNLESS an AP assessment shows improved learning as per Administrative Procedure 360, in which case the teacher may include this positive improvement to the student grade.
Why take the Advanced Placement exam? Universities and colleges recognize scores on Advanced Placement exams and courses as potential replacement percentages over final grades for admission. For the University of Alberta this equates to a 76%, 86%, or 96%. This percentage would replace the 30-level course mark and be used in the calculation of an overall average from Alberta Education, if it is higher. A-level universities recognize a score of 4 or 5 as credit for many equivalent introductory courses. Many B-level universities and colleges also recognize a score of  3. This can provide opportunities for students to be exempt from taking an introductory level course based on their results and ensuing post-secondary course requirements. These opportunities are specific to each university and college, but the U of A documentation has been included here for reference.
Lastly, many post-secondary institutions are moving to a holistic application which includes more than admission averages. Within this scope, students who are challenging themselves with the rigor and focus of an AP course, are receiving a higher recommendation for admission. Also, students completing the AP Capstone Diploma are often seen as superior candidates by university admissions officers.
Bev Facey regularly offers 13 AP® courses:
Art & Design, Biology, Calculus AB, Chemistry, Computing Science Principles, Computer Science A, English Language and Composition, English Literature and Composition, French Language and Culture, Music Theory, Physics 1, Physics 2, and Statistics.

Each AP® course has a "AP prep" (honours) course leading into it. For example, to take the Biology 30 AP course in Grade 12, students are recommended to take Science 10AP & Biology 20AP. This can be adjusted based on student work ethic, final grades, and teacher recommendations.