Back to all posts
Posted on:
2022 Drama Productions - TICKETS ON SALE NOW!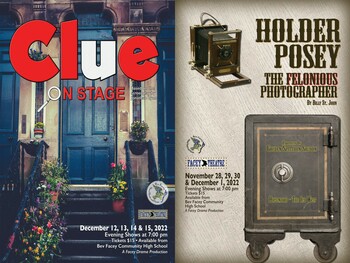 HOLDER POST, THE FELONIUS PHOTOGRAPHER - November 28 **SOLD OUT**, 29**SOLD OUT**, 30 & Dec 1 - Evening Shows 7:00 PM
By Billy St. John
Nothing much ever happens in Holeinroad, a little town Way Out West, according to gossips Gilda Lillie and Echo Chambers.  (You'll have to forgive Echo.  She was born in a canyon and talks kinda funny.)  Nothing much, that is, except the exciting tale of Holder Posey, the felonious traveling photographer, and his attempt to rob the vault of the Golden Spittoon Saloon.  Gilda and Echo recount the story of Holder and his novice assistant, Candide Cameron, who are thwarted in their evil actions by our hero Drew Deline, a poor sketch artist.  Ah, both Drew and Holder have their eyes on Ida Claire Yawl, the fair school teacher from Atlanta.  When Ida rebuffs Holder's advances, he ties her to the vault door and attempts to blow up both of them with dynamite!  Never fear!  Drew saves the day and soundly thrashes Holder in a stop-motion fight you have to see to believe!  Other wacky citizens of Holeinroad include Pastor Pepper; Winnie Gallop, a pony express rider; Sheriff Freddy Katt and his deputy, Deadeye Orb; Mother Sweetums and her Baby Boo-Boo (who is very large for his age!); Dr. Bill and the scalpel-wielding Nurse Cutter; and the saloon owner and her hostesses.  The Wild, Wild West was never wilder or funnier!
CLUE ON STAGE - December 12**SOLD OUT**, 13, 14**SOLD OUT**, 15**SOLD OUT**  Evening Shows 7:00 PM
Based on the screenplay by Jonathan Lynn
(A DRAMA 20/30 PRODUCTION)
It's a dark and stormy night and you've been invited to a very unusual dinner party. Each of the guests has an alias, the butler offers a variety of weapons, and the host is, well…dead. So whodunnit? Join the iconic oddballs known as Scarlet, Plum, White, Green, Peacock, and Mustard as they race to find the murderer in Boddy Manor before the body count stacks up. Based on the cult classic film and the popular board game, Clue is a madcap comedy that will keep you guessing until the final twist.
"CLUE is an athletic, uproarious 90 minute sprint." - The Philadelphia Inquirer
Age Recommendation: 7 and up